I'm going to review something new, different and exciting!
Many of you might know I love Charles Spurgeon.  Though I haven't read him recently I have read and reviewed and quoted different words from the famous Victorian Era preacher on our blog.
In this post I want to review and recommend a Framed Art Print of the famous Prince of Preachers: Charles Spurgeon.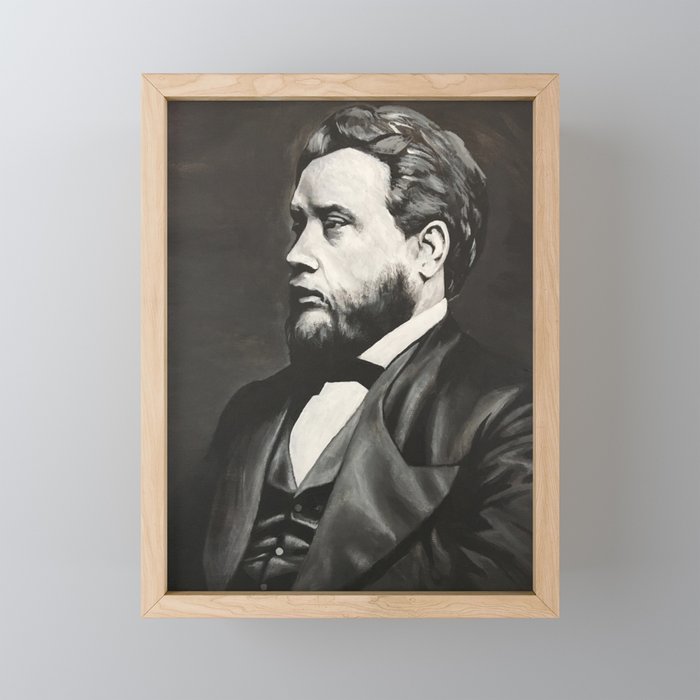 Purchase:
Framed Mini Art Print | Charles Spurgeon Framed Art Print | Charles Spurgeon Metal Print
We have this painting at our church.  It's our only artwork that we currently have of a preacher.  It is framed in our Sanctuary room.  I appreciate having this in our church since it is a visible reminder for me from time to time of the godly example of a Pastor and an extraordinary preacher to emulate in the person of Charles Spurgeon.  I recommend buying the largest size as it captures the intensity of this painting.  There's a realism to the artwork.  It is striking really, and much credit goes to the artist for how he did a superb job with the black-and-white colors and giving it a real life feel.  I really love the details of Mr. Spurgeon in this painting.  There is a good use of the colors black and white in which you see his graying hair while also the use of the two colors made his suit handsome in a formal way that's portray Spurgeon as an honorable pastor instead of say a businessman, politician, etc.  I thought the artist did a really good job drawing Spurgeon's face, which is one of the distinguishing look about Spurgeon.  Just seeing the picture makes me want to read more of Spurgeon's work!  I've shown this to another Pastor and he thought it was really well done as well.  If you love Spurgeon you would find this work delightful to have.  Its also a great gift idea for someone you know in your life who has found Spurgeon's writing to be a blessing such as a Pastor, a theologian, Bible study teacher, or simply a fan of Spurgeon.